MF1921G
iButton Temperature Logger, water resistant according to IPX8
Description
Specifications
Downloads
Description

Regarding the protection class, the MF1921G is an improved version of the
DS1921G
Temperature Logger iButton. The MF1921G provides effective protection against surface moisture, various chemicals and is suited for continuous immersion. The protection class complies with IPX8 according to DIN EN 60529.
To improve the protection class of the iButton it is covered by a rugged and permanent resin coating. Top and bottom provide a notch to enable electrical contact to the iButton. A bracket with mounting hole to mount the unit to an object is also provided.
The permanent resin coating imparts the advantage of the small size of the iButton, however the short thermal response time of an unprotected iButton remains. With suitable accessories the iButton can be comfortably and easily read and programmed even under wet conditions. Compared to the protective encapsulation, the intricate and error prone procedure to place the iButton into the encapsulation and remove it again has been eliminated.
The material employed is an extremely durable and chemical inert resin. This allows an effective protection for the total life span and temperature range of the iButton.
For additional information regarding the protection class, please refer to the
application note
of this product. Technical information can be found on the DS1921G iButton Temperature Logger
data sheet
.
Features
Operating Temperature Range from -40°C to +85°C
Measures temperature in 0.5°C increments
Logs up to 2048 consecutive temperature measurements
Accuracy ±1°C from -30°C to +70°C
Automatically wakes up and measures temperature at user-programmable intervals from 1 to 255 minutes
Applications
Outdoor Temperature Monitoring
Monitoring of Soil Temperature
Temperature Monitoring in Liquids
Research & Development
Examples of Accessories
Technical Drawing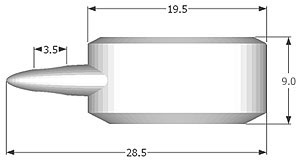 Specifications

Downloads

You Might Also Like